https://www.alephbeta.org/weekly-torah-portion/parshat-chukat
https://torahportions.ffoz.org/torah-portions/numbers/chukat/
As usual, this Torah portion has me on rabbit trails! So, come on, let's get started, we have a lot to cover…
Contemporary English Version
Moses Makes a Bronze Snake
4 The Israelites had to go around the territory of Edom, so when they left Mount Hor, they headed south toward the Red Sea.+ But along the way, the people became so impatient 5 that they complained against God and said to Moses, "Did you bring us out of Egypt, just to let us die in the desert? There's no water out here, and we can't stand this awful food!"
6Then the LORD sent poisonous snakes that bit and killed many of them.
7Some of the people went to Moses and admitted, "It was wrong of us to insult you and the LORD. Now please ask him to make these snakes go away."
Moses prayed, 8and the LORD answered, "Make a snake out of bronze and place it on top of a pole. Anyone who gets bitten can look at the snake and be saved from death."
9 Moses obeyed the LORD. And all of those who looked at the bronze snake lived, even though they had been bitten by the poisonous snakes.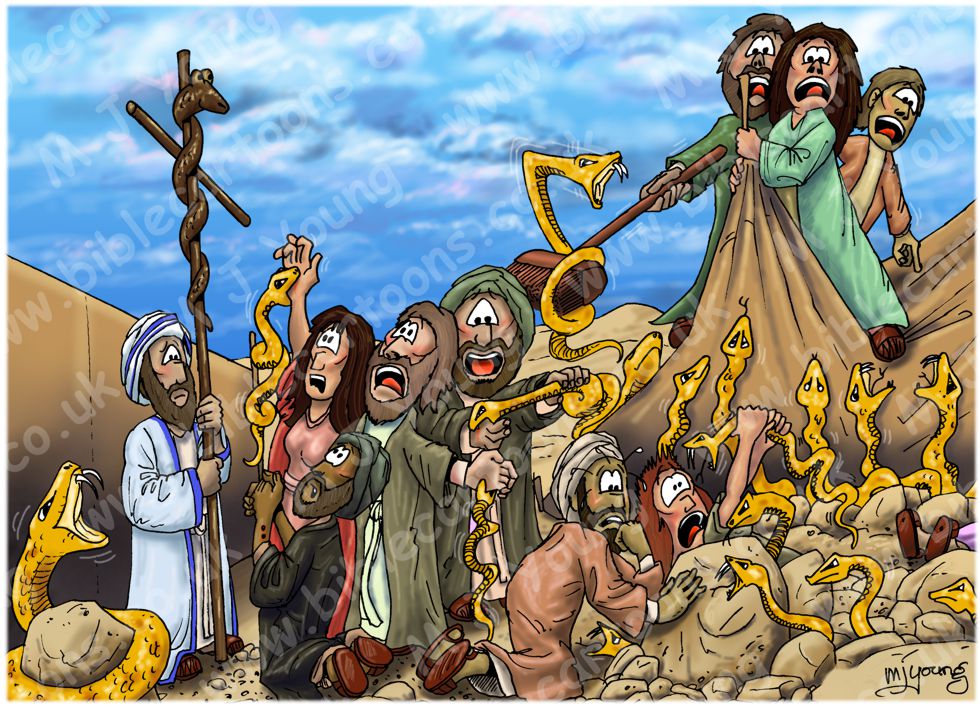 There is always a counterfeit for everything Yah does!
Let's talk about snake oil…
Therapies… seems like there's a therapy for everything that ails you…whether it's a physical problem, mental/emotional, or spiritual…shingles are put out by all sorts of professionals.
People are hurting, people are in dire straights, people look to pharmakia for healing, putting all their hope in the prescription pad and limited knowledge of the "physician".
The truth is, Yeshua,  Creator of all creation, is the Great Physician, Wonderful Counselor. He is the same yesterday, today, and tomorrow.
Many of the methodologies we read Yeshua using to bring healing could be considered snake oil… let's look at some of His unconventional healing modalities.
And he took the blind man by the hand and led him out of the village, and when he had spit on his eyes and laid his hands on him, he asked him, "Do you see anything?" (Mar 8.23)
Do you want to be well?
He asks us that question…do we WANT to be well? One of the sayings in the rooms of 12 step meetings is "being willing to go to ANY lengths to get clean and sober" Which means, one will do what is required to get well…it takes work, it does not just happen.
A woman with an issue of blood
Luke 8:42b-48
42 As Jesus was on his way, the crowds almost crushed him.
43 And a woman was there who had been subject to bleeding for twelve years, but no one could heal her.
44 She came up behind him and touched the edge of his cloak, and immediately her bleeding stopped.
45 'Who touched me?' Jesus asked. When they all denied it, Peter said, 'Master, the people are crowding and pressing against you.'
46 But Jesus said, 'Someone touched me; I know that power has gone out from me.'
47 Then the woman, seeing that she could not go unnoticed, came trembling and fell at his feet. In the presence of all the people, she told why she had touched him and how she had been instantly healed.
48 Then he said to her, 'Daughter, your faith has healed you. Go in peace.
Go in peace…shalom…
Like the woman with the issue of blood, I have spent all my money going from doctor to doctor, therapist after therapist searching for answers to what was wrong with me… Some were kind and compassionate and held out bandaids to stop the hemorrhaging of my soul, patching up the body's response to the years of trauma…
But, it was not enough…never enough…to heal the deep wounds that only He could see…
Growing up in a home that did not offer to feed my soul, nurturing, authentic love created deep, gaping wounds that have festered through the years. The doctors and therapists did not have the proper training to assist me in my journey to wholeness…even though they wanted to help, they just did not have the tools.  Then there were those that were downright snake oil sellers…bringing me even more damage to my already shattered soul and body. Like the "Christian" therapist that colluded with the abusive husband. After I figured out that she was not well trained and in collusion with him, I left her "care" only to be told by the abusive husband (that was still getting "help" from her , that she had "spiritual advisers"  inform her of what I was doing. (Kinda creepy!) Like the therapists that did EMDR treatment and sent me home to be abused more…
Or the Life Coach my husband and I turned to for help, only to be called a "murderer" because I stood up to the verbal abuse, calling out the abusive treatment of me. This so-called Life Coach gave license to the abuser to continue his warped belief system.
Yes..snake oil…there is plenty of it out there! But there is also the authentic Healer who knows exactly what modality to use in the right dosage we need!
He knows how to lead us to the rightly educated folks that will assist us in our journey to wholeness. That person(s) may not have higher education degrees! That person may have the wisdom and life experiences gained from their own struggles to get free from the chains, the bondage and the resulting illnesses…some of us may always walk with a limp, always have a thorn in the side like the Apostle Paul. One thing is for sure! He that began a GOOD work in you WILL be faithful to complete it til the day of Christ Jesus's return!
I wanted to share with you the interview I did with Pastor Jim Stalely of  Passion for Truth Ministries. I pray that it touches your soul and brings healing to wherever needed!
Shalom