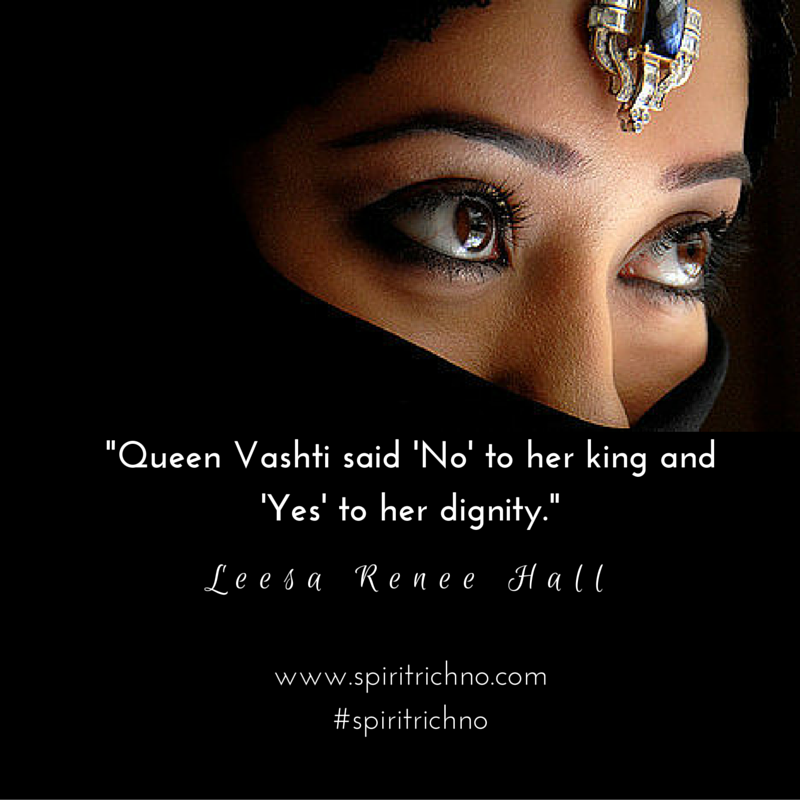 Here are the basics of the Purim story, as told by Dena Klein, a rabbi at Chavurat Tikvah in New York City: "King Ahasuerus loved to have parties and he had this giant event where he asked his wife Vashti to dance for him," she says. "But Vashti refused, so he sent her away to be executed and held a beauty pageant to find another wife, which is how we got to Queen Esther." In the story, Esther, whose cousin Mordechai was a leader in their Jewish community, kept her religion to herself until Haman, one of the king's advisers, hatched a plan to exterminate the Jews. By speaking up, Esther saved her people—and in the end, Haman was the one executed on the gallows he had hoped to use to hang Mordechai.
******************************************************************
Queen Vashti…she had the audacity to refuse the Kings demand that she come before him and all those other drunken men to be put on display. For her insubordination, she was divorced, thrown out of the palace, her home.
Many themes run through the story of Esther. This is the time of year when many read the account of Esther and celebrate Purim. It is a celebration of victory over wickedness and deceitfulness, treachery, and a plot to wipe out those who are Jewish by birth.
Is there anything new under the sun?
No….
Let's look at some of the themes that run through this ancient story…
First…the way women are treated…second…the way women are treated…and third…a woman's true identity…and a glimpse of the 12 tribes of Israel…and the present day…
The treatment of Vashti, her banishment due to refusing the King's demands. Eshter Chap. 1
Esther and the others purified to meet the King Esther 2:3
Mordecai entreated her to hide her true identity Esther 2:10
Mordecai refused to bow to Haman and Haman's rage and plotting to kill all Jews Esther 3:8
Born for such a time as this
If I perish, I perish!
According to the following scriptures from Yahweh's Word, we are scattered across the earth and the Spirit has been calling the tribes back to His ancient ways of Torah. Restoration work has begun. Yahshua said He came for the lost sheep of Isreal…if you are reading this, chances are you are a part of that restoration, awakening and soon to be a revealing as we read in the book of Esther…
I prayed for a deeper understanding of why Queen Vashti would do such a thing knowing she would face serious consequences. I spoke with Author and speaker Kisha Gallagher and she gave me a different spin on the story, one I had heard in the past. That is what led me to do more praying and seeking. I found this article I want to share with you.
Hail Queen Vashti! Celebrating Purim in the age of #MeToo
 | 
When Meredith Jacobs was taught the Purim story as a little girl in the 1970s and '80s, Esther was made out to be its heroine, while Queen Vashti was its "evil queen." According to the Book of Esther, Vashti was banished by her husband, the Persian King Ahasuerus, for refusing his order to display herself wearing her crown in front of his male guests, often interpreted to mean nothing but her crown. A body of traditional commentary depicts Vashti as disobedient and a fraud.
As an adult, Jacobs started to reject that interpretation. Vashti, she realized, was standing up for herself in disobeying her husband's command to expose herself to his guests. This year, Jacobs said, the new interpretation feels even more relevant to her.
"It resonates more powerfully through the voice it's been given through the #MeToo movement and the Time's Up movement," Jacobs, vice president of communications and marketing at Jewish Women International, told JTA.
Jacobs helped organize JWI's #IAmVashti campaign urging people to share their thoughts on the Purim narrative on social media. She said she doesn't think the campaign, which launched this month, would have worked prior to this year.
"I think #MeToo and Time's Up created a way for women to have a conversation and a platform in a huge way and empowered them," she said.
Themes relating to gender are especially relevant this Purim, female rabbis and community leaders told JTA. The holiday, which begins on Feb. 28, comes as sexual harassment and assault allegations against high-profile men continue to emerge months after dozens of women accused Hollywood mogul Harvey Weinstein of sexual misconduct.
The carnival-like holiday is based on Megillat Esther, the Book of Esther, which describes how the Jewish queen Esther used her influence in Ahasuerus' harem to avert a slaughter of his Jewish subjects. In recent years there has been a slew of feminist interpretations both rehabilitating Vashti and pondering the tensions between Esther's subservient role in the king's household and the power she asserts as his queen.
"I've always thought of Purim as a bit of a feminist holiday in that there was always strong female role models in this particular narrative, but it is especially striking this year as we've watched the #MeToo movement just explode, that there is such a precise parallel right here in our own Bible," said Rabbi Leora Frankel at the Community Synagogue of Rye, a Reform congregation in suburban New York City's Westchester County.
Together with the synagogue's cantor, Melanie Cooperman, Frankel is organizing a women's event highlighting women's voices from the Purim story in a skit. "The Megillah Monologues," named after the feminist playwright Eve Ensler's acclaimed  "Vagina Monologues," took place Feb. 25, framed as a way to promote discussion about gender and celebrate Purim in the wake of the #MeToo movement.
"How can we lift up both Vashti and Esther as role models of women today? How can we celebrate their courage and draw inspiration from their story?" Frankel recalled asking herself when she came up with the idea for the event.
Rabbi Denise Handlarski at Oraynu, a Humanistic Jewish synagogue in Toronto, said the themes relevant to #MeToo have always been in the back of her mind while reading the Purim narrative.
"If you read Megillah, it's quite clear that Vashti was victimized in all kinds of ways, and much as we see with some of the things that have been happening recently," she said. "But we have also seen throughout history when a woman stands up for herself, there are unfavorable consequences."
Vashti was victimized in all kind of ways.
Although Esther is able to attain a position of power, she is still limited by the fact that she is a woman, Handlarski said.
"She is able to capitalize on her position, but her position is not particularly full of great choices," she said. "She uses her femininity to help her people in the story, but she has to use her femininity because that's the only location of power for her."
While these themes are not new to Handlarski, she said the #MeToo movement may prompt those who have not previously shared her perspective to do so.
"It's a challenge to rabbis who don't always seek the perspective of women in Jewish texts to center those perspectives a little bit more," she said.
Channa Pinchasi, director of the Be'eri School for Teacher Education at the Shalom Hartman Institute in Jerusalem, says Vashti represents the first time a character in the Purim narrative stands up to Ahasuerus.
"She is the first #MeToo," Pinchasi said.
But Esther, who remains with the king at the end of the Megillah, also represents a #MeToo moment, according to Pinchasi.
"We are asking ourselves in the end of story, there was salvation for the Jewish people, but I can hear Esther calling [out to] us 'Me too, me too! I want to be part of the salvation, but I never got the chance to get out of the palace!'" she said.
B'nai Jeshurun, a non-affiliated synagogue on Manhattan's Upper West Side, is hosting Purim events with the theme "reveal yourself," including a ball for Jewish LGBTQ teens.
"The obvious connection between the theme that we've chosen and the #MeToo movement is the importance of creating communities and a society wherein people feel empowered and safe to reveal the truth of their identities and their experiences and to feel supported in both telling their truth and living their truth," said Rabbi Adina Lewittes, a part-time interim rabbi at B'nai Jeshurun.
Rabbi Mary Zamore, executive director of the Women's Rabbinic Network, said the holiday provides an opportunity to think about Judaism and gender more generally.
"Purim gives us an opportunity to see how these problems have played out throughout our history, but also how we've brought our understanding of gender to our texts in the past and how we can have a fresh view of our texts with a new understanding of gender and women's experience," Zamore said.
"Purim is a night that's supposed to be a little irreverent and frivolous, so [I want women] to be able to come together in safety and female solidarity but [also] to celebrate and not just to protest and not just to lament the state of things," she said.
This MeToo/Vashti causes me to go "hmmmmmm!" I have done past shows on the podcast called Healing for the Nations with A Modern Day Samaritan Woman regarding the MeToo Movement. As a survivor of childhood sexual abuse, domestic abuse, and sexual harassment, I cannot help but applaud this woman's audacity to set a strong boundary, protecting herself from being a modern-day version of a  porn star. You may disagree with my point of view, and that is okay. There are many ways to interpret this storyline.
With the sex trafficking industry in full swing in spite of people's knowledge and disgust, I wonder about this King ordering his kingdom to search out the land for a new queen. Were these young ladies a willing participant? What if they were taken from their secure homes, away from mother and father, their guardians simply because it was a king's order? Had they been taken against their will, and that of their families?
I wonder…
Here is a powerful message on Purim, I encourage you to watch this brother's message…listen to what he has to say because it is for such a time as this!